❤ Five Love Languages Quiz: Which One Do You Speak?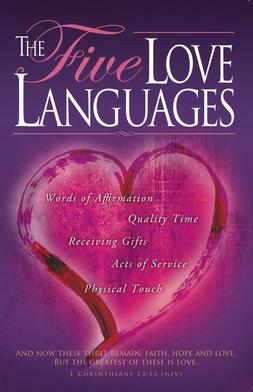 The Five Love Languages
Original title: The Five Love Languages: How to Express Heartfelt Commitment to Your Mate
There are officially five ways to express or receive love: the five love languages.
The term was first coined by Gary Chapman in his 1995 book
"The Five Love Languages: How to Express Heartfelt Commitment to Your Mate"
. According to Chapman, there are five ways we express and experience love (he calls them "love languages"):
Gift Giving, Quality Time, Physical Touch, Acts of Service (Devotion), and Words of Affirmation.
We all "speak" one of them most fluently in each of our relationships - especially in a marriage. Wouldn't it be great if you could know exactly which one is your dominant, and could be able to act with people you love accordingly, every time you speak to them? To know for sure whether you are someone who needs to give or be given gifts to show love, or whether you prefer spending quality time with someone over material items? Or maybe you feel the need of constant affection from your mate and just need to feel loved? Sounds too good to be true? Let's be honest, there are a few other tests around that claim to be able to identify your dominant language of love. Discovering your love language is hard, but it's also critical for you and for your loved ones. Our quiz is based on Gary Chapman's book; you'll get the results for the quiz (your 'love language profile), together with useful relationship tips, right away, no registration required. Take this free test now to find out which of the five most popular love languages you speak! Is it Receiving Gifts? Or maybe Physical Touch or Words of Affirmation? After you have answered all the questions on this page, you'll get a summary with the profile of your dominant language, and a short guide outlining exactly what you can do about it, as well as some useful relationship tips.